In this blog post, we'll guide you through the process step by step on how to setup a PayPal account in China today. Let's get started!
Are you living in China and looking for a convenient way to make online transactions? Say hello to PayPal!
With over 300 million active users worldwide, PayPal offers a quick and secure payment solution for individuals and businesses alike. But how do you set up a PayPal account in China?
What is PayPal?
PayPal is an online payment system that allows users to send and receive money electronically. It was founded in 1998 with a mission to simplify electronic payments, making it easier for people to exchange currency across borders.
The platform operates in over 200 markets around the world, including China where it has become increasingly popular as a secure and convenient way of transacting business. PayPal provides both individuals and businesses with a range of services such as personal accounts, merchant accounts, and mobile payments.
One of the key benefits of using PayPal is its security features which protect against fraud through encryption technology and advanced risk management systems. Another advantage is its ease-of-use, allowing customers to make transactions quickly without having to enter their financial information each time they shop online or transfer funds.
PayPal has transformed the way we do business by providing a reliable and efficient payment solution that enables people all over the globe to connect on one seamless platform.
How to use PayPal in China
PayPal is a widely used online payment platform that allows individuals and businesses to send and receive money electronically. However, when it comes to China, PayPal has some restrictions in place due to the country's strict regulations on foreign financial services.
To use PayPal in China, you will need to make sure your account is set up correctly with Chinese Yuan (CNY) as the primary currency. This will allow you to make transactions using local currency rather than having to convert from another currency.
When making payments or receiving funds through PayPal in China, it's important to note that there may be fees involved depending on the type of transaction and amount being transferred. Be sure to review PayPal's fee schedule before completing any transactions.
It's also worth noting that not all merchants or individuals in China accept PayPal as a form of payment. Therefore, it's always best practice to confirm with the recipient beforehand if they accept payments via PayPal.
While using PayPal in China may have its limitations and challenges, it can still be a useful tool for managing international transactions with ease and efficiency.
Creating a PayPal account in China
Creating a PayPal account in China is not as straightforward as it is in other countries. However, with the proper guidance and steps, you can easily create an account that suits your needs.
Firstly, visit PayPal's official website for China and select Sign Up on their homepage.
You will be prompted to select either an Individual Account or a Business Account, then click Next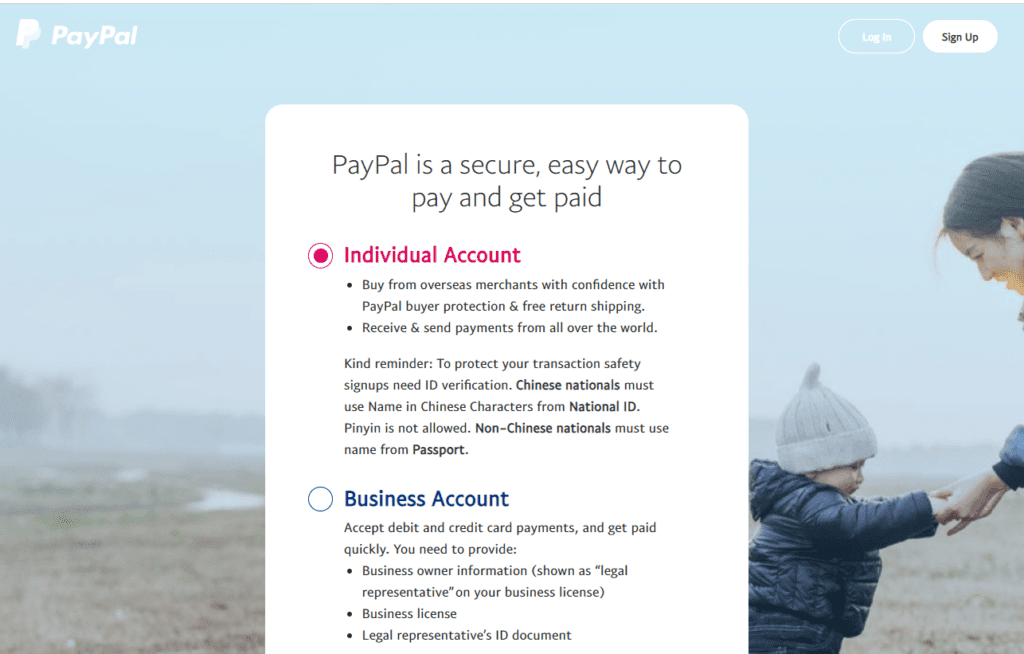 Make sure that you select China as Country/Region, then click Get Started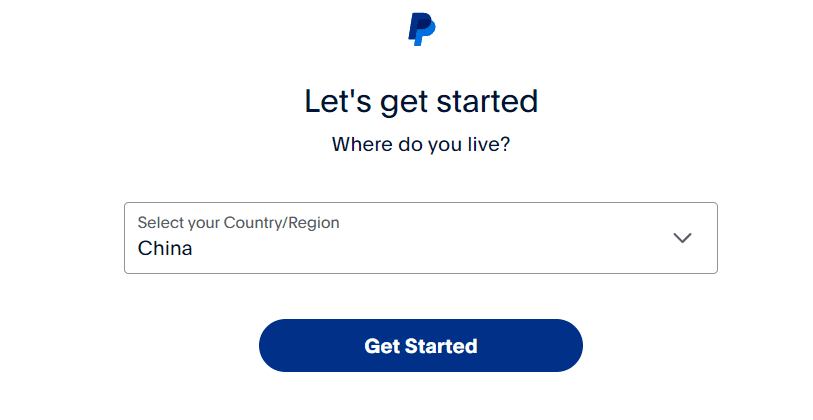 Fill out your mobile number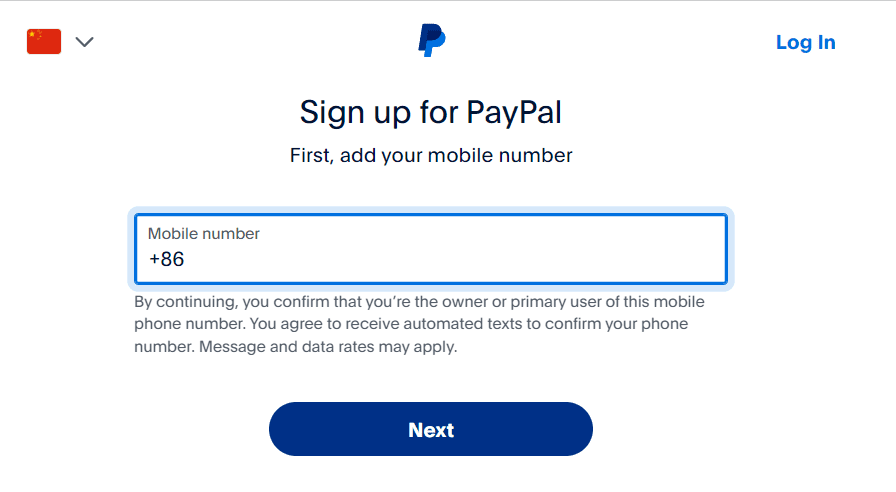 Confirm the phone number by inputting the verification code
Fill out personal information such as your email address, nationality, name, and password.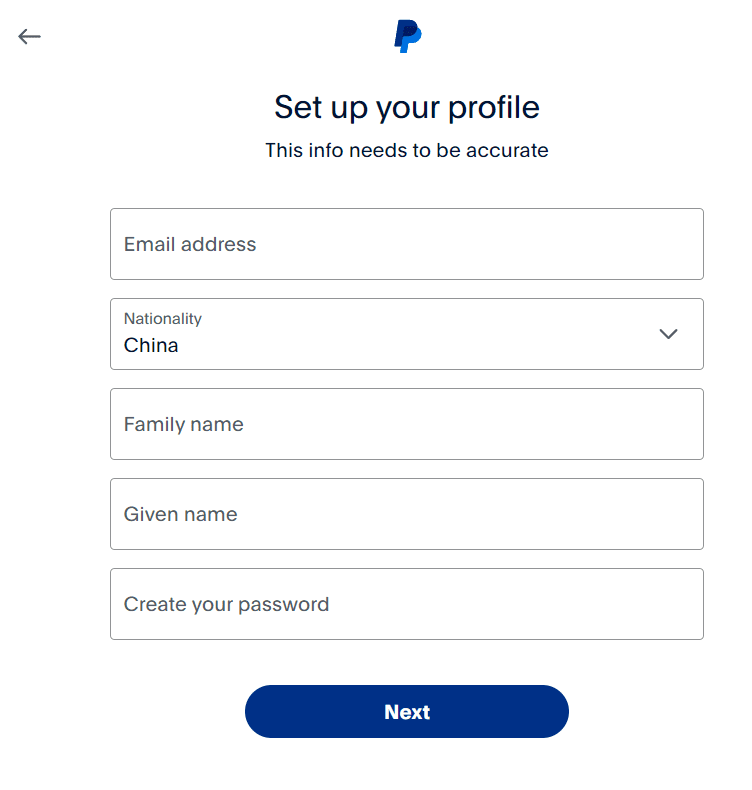 Note: Choose a strong password that includes upper case letters, numbers and symbols to ensure maximum security.
After completing this step, read through the terms of use carefully before clicking "Agree & Create Account."
You may then be asked to verify your identity by providing additional information such as your passport details. Once verified successfully, you can link your bank account or debit/credit card with ease.
It's important to note that some Chinese banks have restrictions on linking accounts with foreign services like PayPal so make sure to confirm this before proceeding. With these simple steps done correctly, creating a PayPal account in China should be easy!
Linking your bank account to PayPal
To fully utilize your PayPal account in China, it is essential to link it with a bank account. This will allow you to withdraw funds and transfer money between accounts seamlessly.
Firstly, log in to your PayPal account and under the Wallet tab, select Link a bank. You will be prompted to enter your bank's name, card number and other personal information. Make sure all details are accurate before submitting.
PayPal will then deposit two small amounts of money into your linked bank account within 1-2 business days. Once confirmed, you can verify your bank account on PayPal by entering the exact amount deposited.
It's important to note that some Chinese banks may not support linking their accounts with foreign payment systems like PayPal. In this case, consider opening an international or offshore account that supports online transactions with PayPal.
Linking a Chinese bank account with your PayPal is simple and straightforward process that enables you to enjoy faster and more convenient online transactions in China.
Using your PayPal account in China
Using your PayPal account in China is a convenient way to send and receive payments. Once you have created your PayPal account and linked it to your bank account, you can use it for various transactions such as online shopping or paying bills.
When using PayPal in China, make sure that the currency exchange rate is taken into consideration. It's important to know that if you're sending money from China to another country, there may be additional fees involved.
To ensure the safety of your transactions while using PayPal in China, always keep your login credentials secure and avoid accessing your account on public Wi-Fi networks. Additionally, when making purchases through websites that accept PayPal payments, always verify their authenticity before entering any personal information.
Using a PayPal account in China can offer many advantages when it comes to payment convenience and security. However, make sure to stay vigilant with securing your account and verifying website authenticity before conducting any transactions.
Conclusion
Setting up a PayPal account in China is a straightforward process that can help you make online transactions with ease. By following the steps outlined above, you can create and link your bank account to PayPal and start using it for various purposes such as online shopping or sending money to friends and family.
It's worth noting that while PayPal is widely accepted in many countries worldwide, there are still some limitations when it comes to its usage in China. For instance, one cannot use their Chinese-based PayPal account for cross-border transactions on certain e-commerce platforms like Taobao or JD.com.
Nonetheless, having a PayPal account remains an excellent option for expats living in China who want to manage their finances conveniently. With its user-friendly interface and wide range of features, using this digital payment platform has never been easier!