If you are planning to work in China or apply for a China permanent residence and require a Certificate of Conduct, commonly known as VOG (Verklaring Omtrent het Gedrag), this comprehensive guide will walk you through the step-by-step process of obtaining the certificate in the Netherlands and subsequently legalizing it for use in China.
The VOG serves as a crucial document to confirm your behavior and criminal record history, and its legalization ensures its validity and recognition in a foreign country like China.
Credits go to Maarten and Dazz for feedback and improvement suggestions!
Step 1: Obtaining the VOG Application Form
The VOG application form is available for download on the website of Dienst Justis, a department of the Dutch Ministry of Justice and Security.
Ensure that you download the correct version of the form, depending on whether you are registered in the BRP or are a non-resident.
Provide accurate information and complete the form accordingly.
Step 2: Submitting the VOG Application
The documents required to apply for the VOG are as follows:
a finished application (four pages in PDF format);
a copy of your current ID or passport;
a record of the fee's payment, which is €41.35 (VAT-free);
When someone else submits your application on your behalf, you must include an authorization form that is fully completed and signed. A copy of the authorized person's current ID card or passport must also be included.
You should apply directly to the municipality if you are enrolled in the BRP by sending a fully completed application form to the municipality in which you are registered.
If you are not enrolled in the BRP, you should submit your application directly to the COVOG department.
In that case, you must send your entire application to vog.np.rni@justis.nl.
Double-check the provided information to avoid errors or delays.
Step 3: Payment of Required Fee
The VOG application incurs a fee of €41.35, which can be conveniently paid online using various payment methods such as credit/debit card or iDEAL.
Please be aware that any additional fees levied by your bank for (international) direct deposits will be charged to your account. Only until Justis has received the entire €41,35 can your application be completed.
The bank's address is:
ING Bank N.V.
Foreign Operations
PO Box 1800 1000 BV Amsterdam.
The number of the bank account:
BIC (swift code) INGBNL2A
IBAN-code NL31 INGB 0705005453
Made out to: Min. van Justitie en Veiligheid 605/JUSTIS COVOG
Turfmarket 147
2511 DP DEN HAAG
Step 4: VOG Processing and Issuance
After submitting your application and paying the fee, the Dienst Justis will review your application.
Keep in mind that the processing time may take between 4 and 8 weeks starting from the receipt of your application, so it is crucial to plan accordingly.
If all the provided information is accurate and no issues arise during the evaluation, you will receive the Certificate of Conduct by mail at your registered address.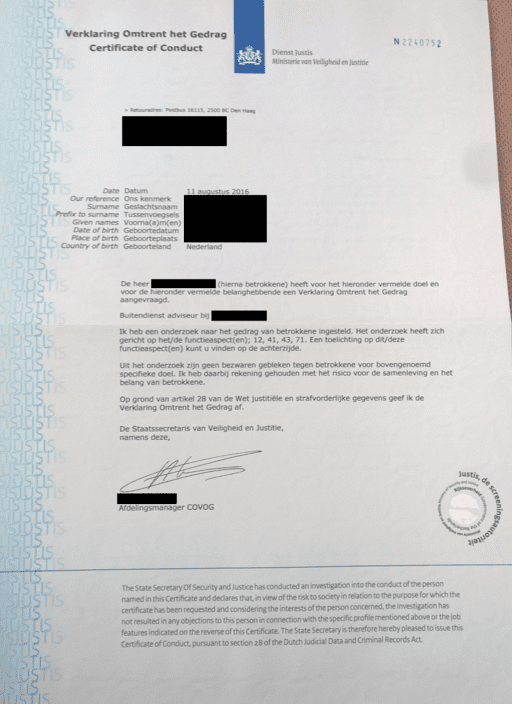 Step 5: Legalizing the VOG for Use in China
To ensure the validity and recognition of your VOG in China, it must undergo a legalization process.
This involves a series of steps that authenticate the document's validity in a foreign country. The typical process includes the following:
Authentication: The VOG must be authenticated by the Ministry of Foreign Affairs in the Netherlands. Visit the ministry or its designated office and submit the VOG for authentication. You may authorize someone to submit it on your behalf provided they submit a copy of their passport or ID as well.
Consular Legalization: Once authenticated by the Ministry of Foreign Affairs, the VOG must undergo further legalization by the Chinese Embassy or Consulate in the Netherlands. Submit the authenticated VOG along with any additional documents required by the embassy or consulate.
Step 6: Translation (if necessary)
In China, documents not in Chinese usually require translation into Mandarin.
If your VOG was not already in Mandarin as part of Step 5, then you will need to have it translated by an authorized translation service in China. Ensure the translation is accurate and includes all relevant details.
Conclusion
Obtaining and legalizing a Certificate of Conduct (VOG) in the Netherlands for use in China involves a structured process.
By following this comprehensive guide, you can navigate the application process smoothly and ensure that your VOG is recognized and accepted in China.
Remember to plan ahead, gather all necessary documents, and allocate sufficient time for processing and legalization.