The Chinese embassy in Tunisia stated that starting November 7, 2023, Tunisian documents with an apostille can be used in China without consular legalization.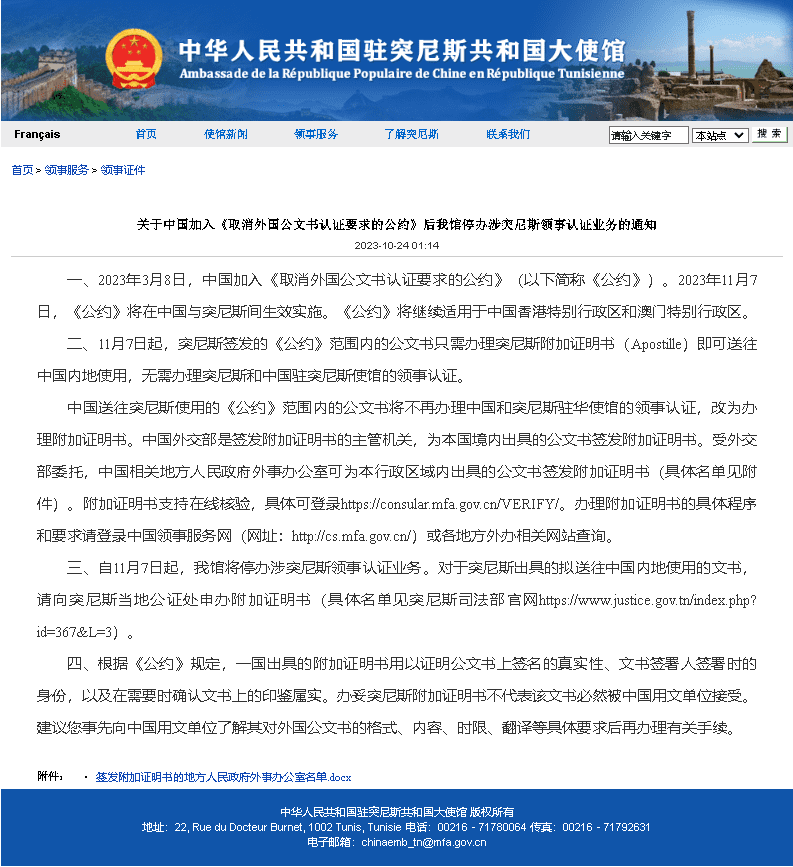 Documents within the scope of the Convention intended for use in Tunisia will no longer undergo consular authentication at the Chinese Embassy in Tunisia. Instead, an Apostille will be issued.
The Chinese Ministry of Foreign Affairs is the competent authority for issuing Apostilles for documents issued within its territory.
The foreign affairs office of the relevant local government in China, under the authorization of the Ministry of Foreign Affairs, can issue Apostilles for documents issued within their respective administrative regions (see the list for specifics).
Apostilles can be verified online at https://consular.mfa.gov.cn/VERIFY/.
For detailed procedures and requirements for obtaining Apostilles, please refer to http://cs.mfa.gov.cn/zggmcg/fjzms/.
For documents issued by Tunisia intended for use in mainland China, please apply for an Apostille from the local Tunisian notary office. See the specific list on the Tunisian Ministry of Justice website: https://www.justice.gov.tn/index.php?id=367&L=3.
Notes:
According to the provisions of the Convention, an Apostille issued by a country is used to verify the authenticity of the signature on a public document, the identity of the person signing the document, and the authenticity of any stamps or seals when necessary.
Obtaining a Tunisian Apostille does not guarantee that the document will be accepted by Chinese authorities.
It is advisable to consult with the relevant Chinese authorities in advance to understand their specific requirements regarding the format, content, deadlines, translations, and other procedures for foreign public documents.