Source: ECNS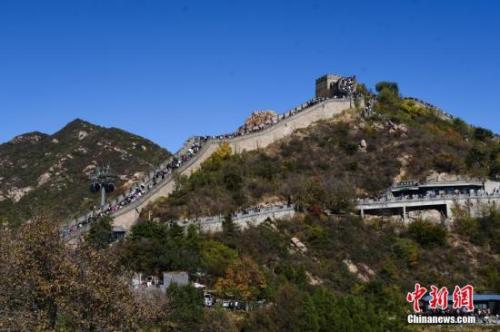 File photo of the Badaling Great Wall. (China News Service)
(ECNS) — The Badaling section of the Great Wall built in the Ming Dynasty (1368-1644) will cap the number of visitors at 65,000 a day and adopt a real-name booking system starting from June 1.
Those planning to visit the Badaling Great Wall are required to book a ticket online through the official website (ticket.badaling.cn) and the official WeChat account seven days in advance. On the day of visit, tourists need to show the ID they used to book the ticket to enter the scenic spot.
Authorities will also start a tri-colored warning system to help the public stay informed of the number of visitors and to implement response measures, with yellow, orange and red meaning 39,000, 52,000 and 65,000 tourists a day.
The information will also be available on the website, WeChat, LED screens near the highway, the traffic guide on search engine Baidu and city radio stations amid efforts to make visitor management intelligent.
As one of the best preserved and most representative section of Great Wall, Badaling is very popular and has received many world leaders including former U.S. president Richard Nixon during his historic tour in 1972.
Data shows the Badaling Great Wall received 9.9 million tourists in 2018, with peaks mainly in holidays.
A manager at the Badaling administration office said the fluctuation in daily tourists brings hidden dangers to the cultural relic and seriously affects the experience of visitors.