Source: China Daily
Policymakers, researchers keeping close track of development, the potential impact of Libra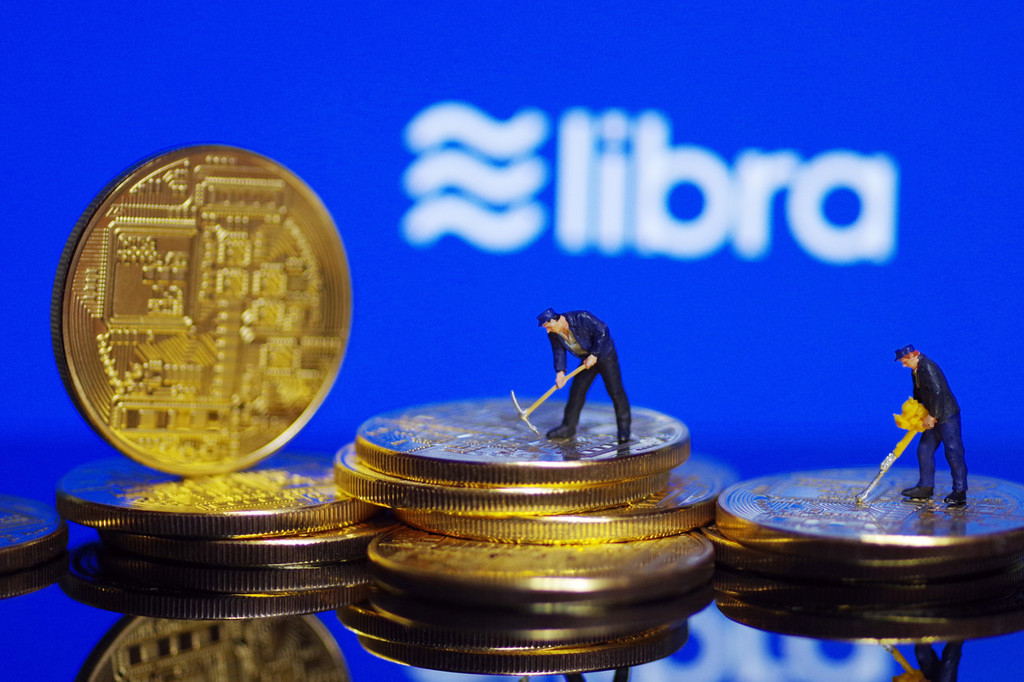 [Photo/IC]
The central bank is accelerating its efforts to introduce a government-backed digital currency, aiming at securing a cutting-edge position in the global cryptocurrency race, a senior official said on Monday.
The People's Bank of China, the central bank, is organizing market-oriented institutions to jointly research and develop a central bank digital currency and the program has been approved by the State Council, the country's Cabinet, Wang Xin, director of the PBOC Research Bureau, said at a seminar at Peking University.
The central bank has been watching the emergence of a new global digital currency called Libra, introduced by Facebook, the world's biggest social network company, on June 18.
"We will keep a close eye on the new global digital currency," said Wang, making the latest comment on Libra from the country's monetary authority.
Unlike other cryptocurrencies, such as Bitcoin, Libra is described in a Facebook white paper as a currency "fully backed by a reserve of real assets." A basket of bank deposits and short-term government securities will be held in a Libra reserve to guarantee its value.
Twenty-seven companies and entities have joined the Libra founder group, including the world's traditional payment giants Visa and Mastercard.
Facebook has indicated it intends to establish a worldwide independent governance body, based in Geneva, aiming to ultimately include 100 members by the scheduled launch time in 2020.
"From the government's perspective, we pay more attention to its influence on financial services, monetary policy, and financial stability," Wang said.
He said that if Libra can be successfully launched, it may challenge the existing United States dollar-centered international monetary system, a possibility that must be closely monitored.
Huang Yiping, director of the Digital Finance Research Center of Peking University and a former member of the PBOC monetary committee, said the birth of Libra serves as an "alert" for China's digital currency innovators and regulators.
Any role for Libra beyond the payment function could bring changes to the rules of the global monetary system, and regulators should pay close attention to that possibility, Huang said.
The world's economies have yet to decide how to cope with the challenge by the Libra system, though accelerating the launch of their own digital currencies could be a counterbalance, according to Wang of the PBOC.
Wang also said that the central bank digital currency could be a new monetary policy tool or an investment asset that carries an interest rate to satisfy investors' demand for value. Wang's discussion of the matter indicates it might also be used as a reference for bank interest rates on deposits.
"A digital currency issued by the central bank can improve the efficiency of monetary policy, and help to optimize the payment system," he said.
Some experts suggested launching a Chinese version of Libra, using Facebook as a reference, to compete in the global cryptocurrency race, and they said the Chinese digital currency also could be used domestically. But "everything is just under discussion," the PBOC's Wang told China Daily.
Li Zhenhua, executive director of the Ant Financial Research Institute, part of the Alibaba Group, said the market is worried about whether Libra will develop into a type of credit money. If that were to happen, it would challenge central banks' monetary sovereignty. Li said. Credit money is a future monetary claim, like an IOU.
"We will improve international coordination and cooperation in digital finance and enhance global communication on Libra and CBDC. China will push forward the establishment of unified standards and regulatory rules," said Wang.
The PBOC was one of the earliest central banks to start digital currency innovation. The program began in 2014, led by former governor Zhou Xiaochuan.
China's monetary authority identifies the nature of digital currency as "a substitute for cash," rather than a speculative instrument, according to the central bank.
Research work is led by the PBOC's Currency Gold and Silver Bureau. The department, primarily in charge of traditional currency management, is shifting to digital currency innovation because the use of cash is declining in China amid booming digital payment systems.
Peking University launched a new program on Monday called Open Research Initiative of Digital Finance to provide a research platform for innovation in digital financial products.