In this guide, we will walk you through everything you need to know about using SkyRemit so that sending money home becomes as easy as pie!
Note: The information provided should not be taken as financial advice or any other sort of advice. You should do your own research.
Hey there, fellow expats in China! We know the struggles you face when it comes to sending money back home: limited options, endless paperwork, and never-ending waiting times can be a real headache.
But fear not, because SkyRemit is here to simplify, guarantee, and speed up the process, ensuring your hard-earned funds reach where they need to be without the hassle.
As one of the pioneers among approved payment institutions in China, SkyRemit is a dedicated platform exclusively designed for expats working in China. Say goodbye to the complexities of traditional remittance methods and embrace a secure and hassle-free way to transfer funds overseas.
With SkyRemit's fully English-operated interface and customer service, sending money has never been easier. But that's not all! Their lightning-fast transfer speeds and low fees ensure that your funds arrive at their destination quickly and efficiently.
Compared to traditional banks, SkyRemit offers several advantages that make your life easier. Forget about offline queuing, complicated documentation, and impersonal service. With SkyRemit, you can bid farewell to the hassles of dealing with banks directly.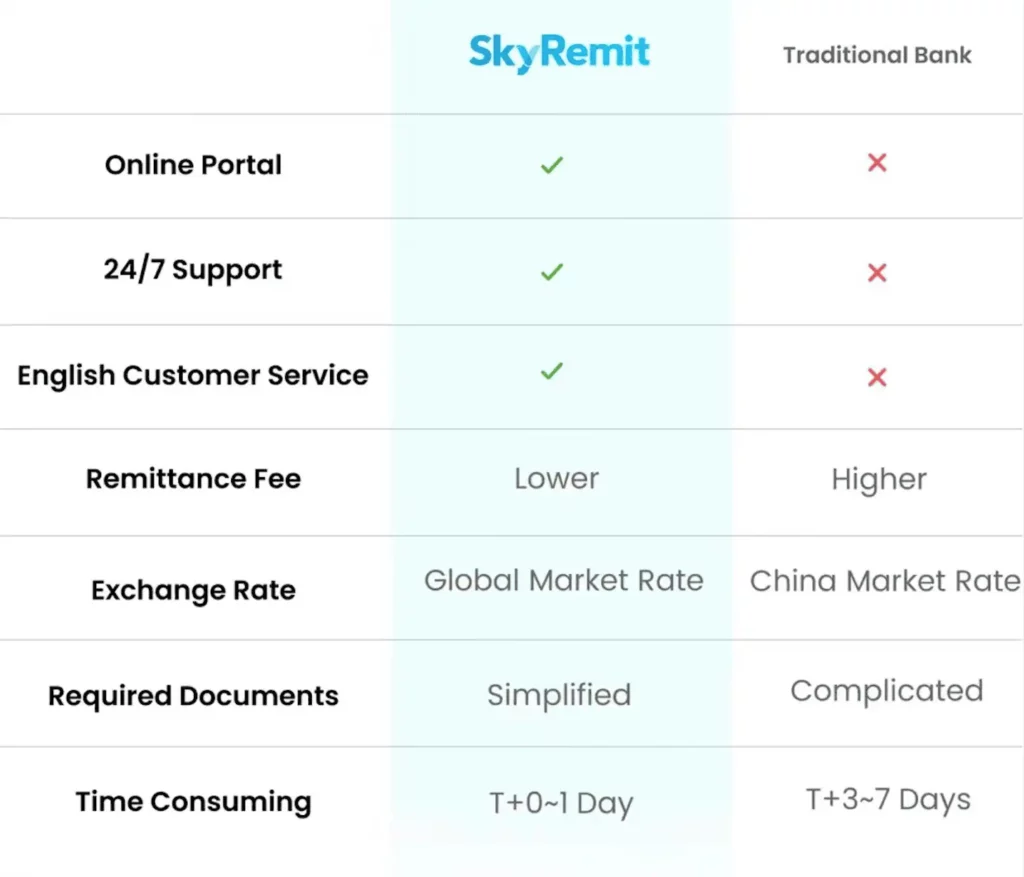 Now, you might be wondering how SkyRemit ensures the safety of your hard-earned funds. We all understand that security is a top concern. While banks are generally trusted, other third-party companies might not be. But rest assured, SkyRemit is a secure way to transfer money. Here's why!
The People's Bank of China (PBOC) allows SkyRemit to operate a TRUST ACCOUNT called the ACS ACCOUNT (Accounting Data Centralized System) for clients. These accounts function similarly to traditional bank accounts. You can find the account structure of PBOC below: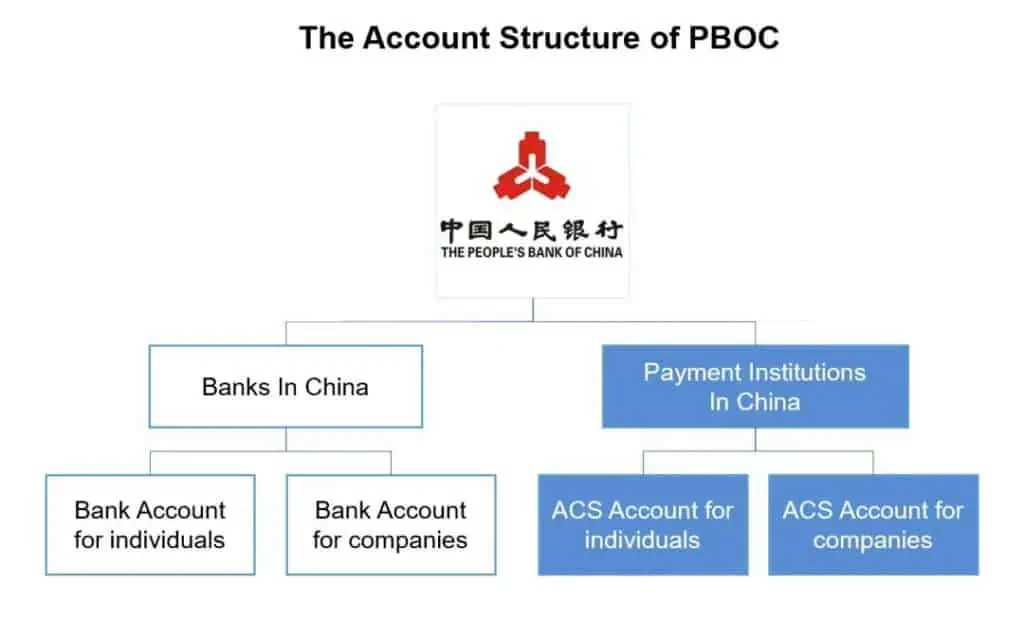 This means SkyRemit's safety level is on par with that of a bank. During the transaction process, all funds are transferred between accounts opened in your name.
Using SkyRemit services is incredibly easy. Just follow their official WeChat channel and locate the "Remit" button at the bottom left corner of the menu.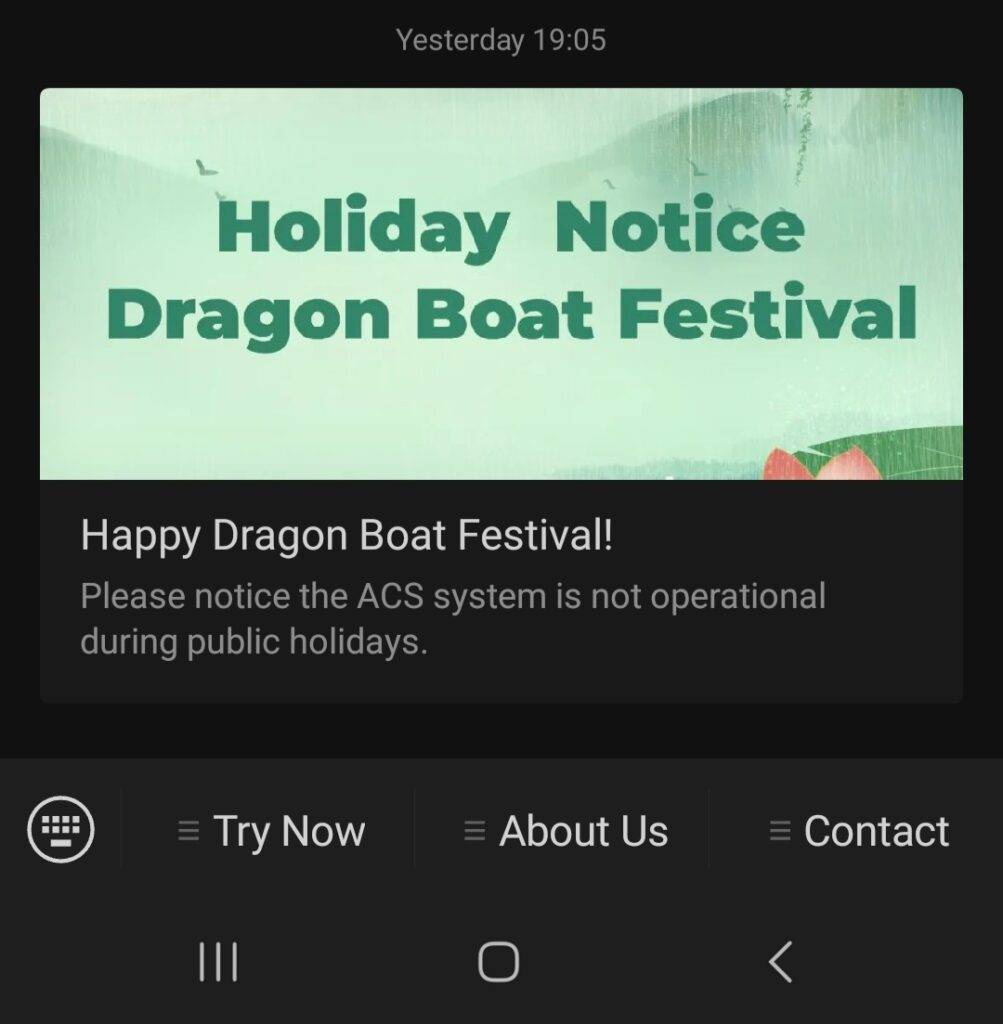 If you have any questions or concerns, simply click on "Contact" and their friendly customer service team will be more than happy to assist
How to open a SkyRemit account?
To open a SkyRemit account, you need to follow these simple steps:
First, go to the SkyRemit website (or scan the QR code below):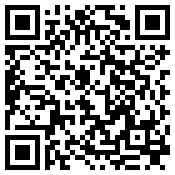 You will then be taken to a registration page where you can enter your China Mobile Phone/Email Address, click on Get Security code to get a one-time password, tick the radio button regarding Terms of Use, and then click on Sign Up.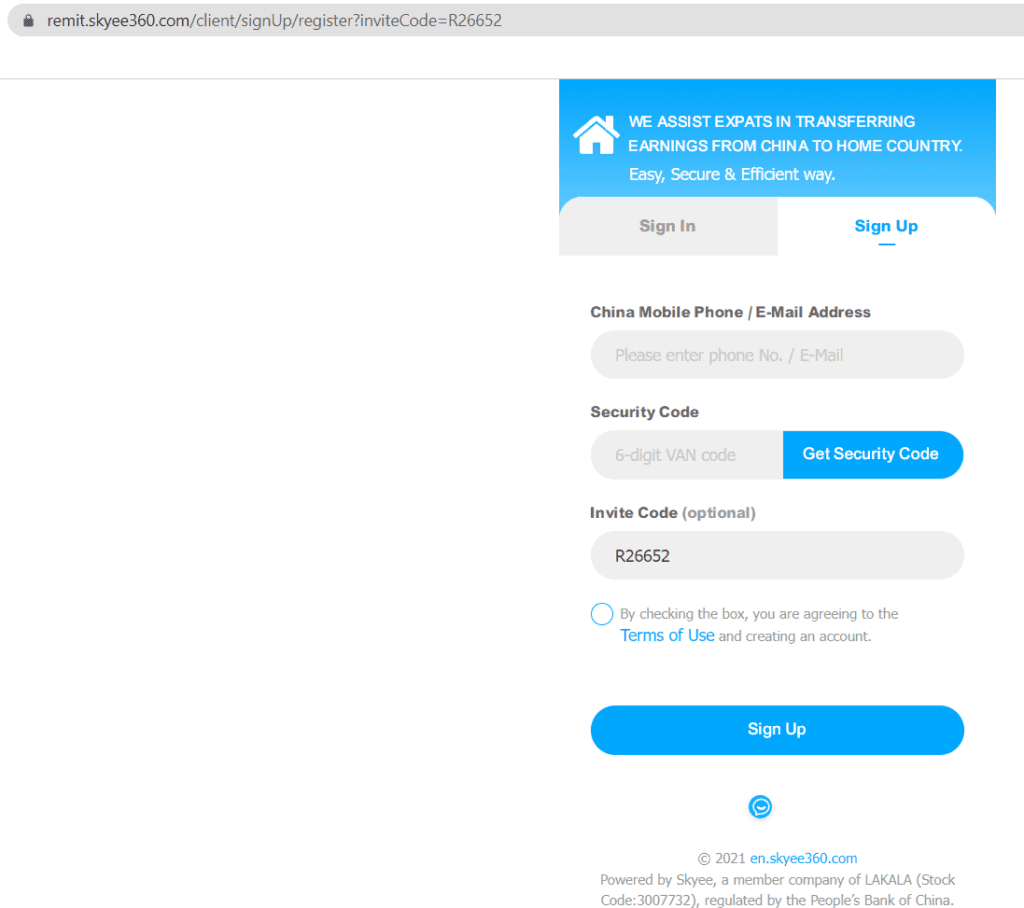 Next, you'll need to verify your identity by uploading a valid ID document such as a passport and China Residence permit or China Permanent Residence ID card.
Once that is done successfully, you can add your proof of income and tax receipts that you can get from the Tax App named 个人所得税 so that SkyRemit can start their KYC (Know Your Customer).
The KYC process would take about 3 working days and once approved, an ACS account will be created and you can start sending money from China to other countries or regions.
How to send money home from China using SkyRemit?
Step 1: Get started with Skyremit
Simply sign up using your email address or your China mobile phone number and you're good to go!
Step 2: Open up an ACS account
To open an ACS account, you'll need to verify your identity and provide proof of income and tax receipts via the Tax App.
Step 3: Input the amount you want to transfer
Just type in the exact amount you wish to send, and we'll automatically give you an estimate of how much the recipient will receive. The final amount may vary slightly depending on when you confirm the exchange rate.
Step 4: Transfer your funds
Using your bank's mobile app, enter the amount you want to transfer from your Chinese bank account to your ACS account. It's as simple as that!
>>> To help you with that, SkyRemit has a guide on how to transfer funds from 13 different Chinese bank accounts that you can check out here.
Step 5: Fill in the recipient's details
If you happen to forget to enter your recipient's information, don't worry. SkyRemit will give you a friendly reminder as soon as they receive notification that you've sent funds to your ACS account.
Step 6: Confirm the rate
Before initiating the transfer to your recipient's account, you'll need to confirm the exchange rate. If the rate doesn't quite suit you, feel free to wait for a better one.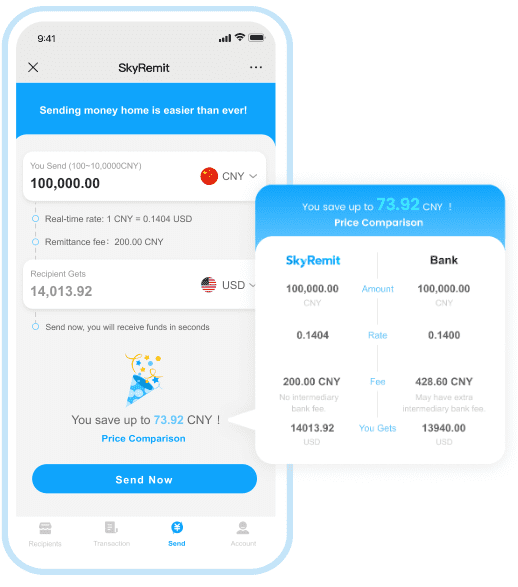 Step 7: Keep tabs on your transfer
You can easily track the progress of your transfer through the Transaction tab or by logging into your recipient's bank account. It's all about staying connected and in control!
So there you have it, a simplified breakdown of the steps to follow when using Skyremit.
What are the benefits of using SkyRemit?
Using SkyRemit to send money home from China offers a range of benefits. The platform is incredibly easy to use and requires no prior experience or knowledge of international banking transfers. This means that even those who are unfamiliar with banking terminology can easily navigate the system.
SkyRemit charges very low fees for its services compared to traditional bank wire transfers. This means that users can save substantial amounts of money when sending funds overseas.
Another benefit of using SkyRemit is that it provides fast and efficient transfer times, with most transactions completed within just 24 hours. This makes it an ideal option for individuals who need to send money quickly in emergency situations such as medical bills or unexpected travel expenses.
SkyRemit operates on a secure platform that ensures that all personal information and financial data remain confidential and protected at all times. This gives users peace of mind knowing their transactions are safe and secure.
FAQ Regarding SkyRemit
What are the transfer currencies that are supported?
At this time, SkyRemit accepts transfers in the following currencies:
AUD (Australian Dollar)
CAD (Canadian Dollar)
EUR (Euro)
GBP (British pound)
HKD (Hong Kong Dollar)
MYR (Malaysian Ringgit)
SGD (Singapore Dollar)
THB (Thai Baht)
USD (US Dollar)
ZAR (South African Rand)
Support for more currencies is still a work in progress.
How long does it take to transfer?
Depending on the country you are sending to, cash will often be delivered within one business day.
Can I transfer money using another person's bank account?
No, the name on your ACS account must match the name on the bank account you are sending from.
Does the amount I can transfer have any restrictions?
500 RMB is the minimum and 100,000 RMB is the maximum per transaction.
How much do I need to pay per transaction?
There is a flat transfer fee of 79 RMB for any transaction between 500 RMB and 100,000 RMB.
Conclusion
To sum it up, SkyRemit is a reliable and convenient platform for sending money home from China. With its user-friendly interface and competitive exchange rates, users can easily transfer funds to their loved ones in just a few clicks. Additionally, the fast transaction times and various payment options make it even more appealing.
Furthermore, SkyRemit offers multiple benefits such as low fees compared to traditional banks, secure transactions with SSL encryption technology, and 24/7 customer support. Using SkyRemit is an excellent way to send money back home while staying connected with your loved ones.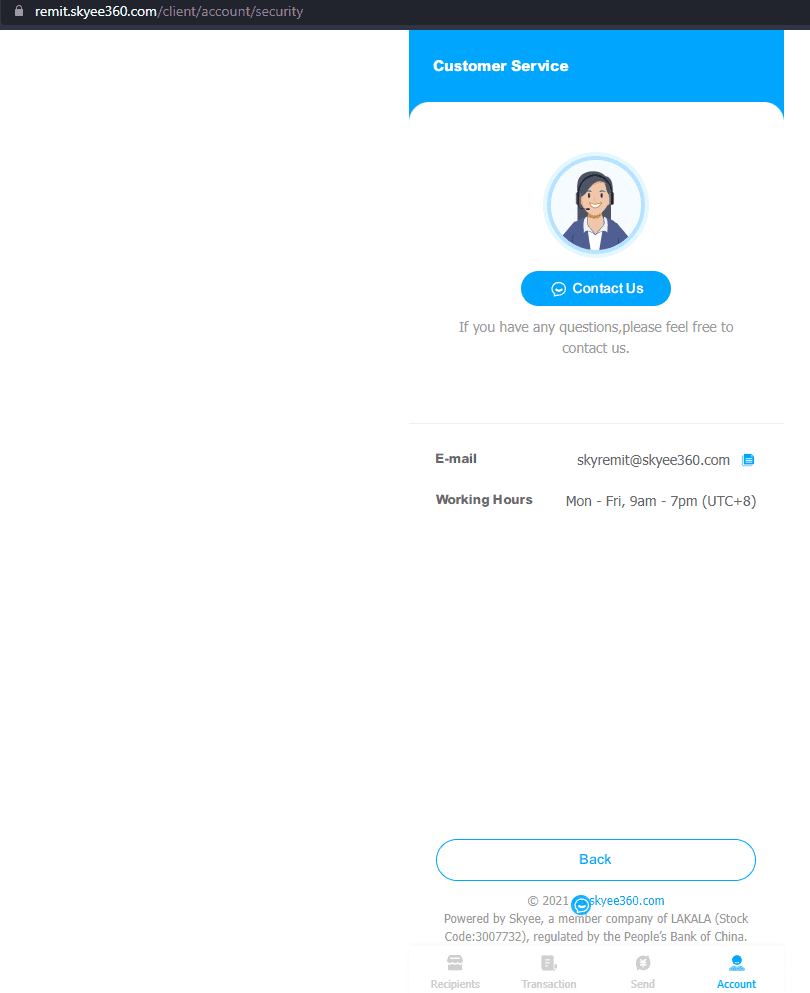 So what are you waiting for? Sign up today by using this link and experience the ease of sending money through SkyRemit!