As the upcoming China Long holiday season approaches, encompassing both the Mid-Autumn Festival and National Day, which spans from September 29th to October 6th this year, travelers are gearing up to secure train tickets for their journeys.
There won't be any workdays sandwiched between these two festive occasions, making it an uninterrupted 8-day holiday period.
The much-anticipated ticket sales for train journeys on the Mid-Autumn Festival, occurring on September 29th, will commence this Friday, September 15th. Travel enthusiasts are urged to make early preparations for this ticket-buying frenzy.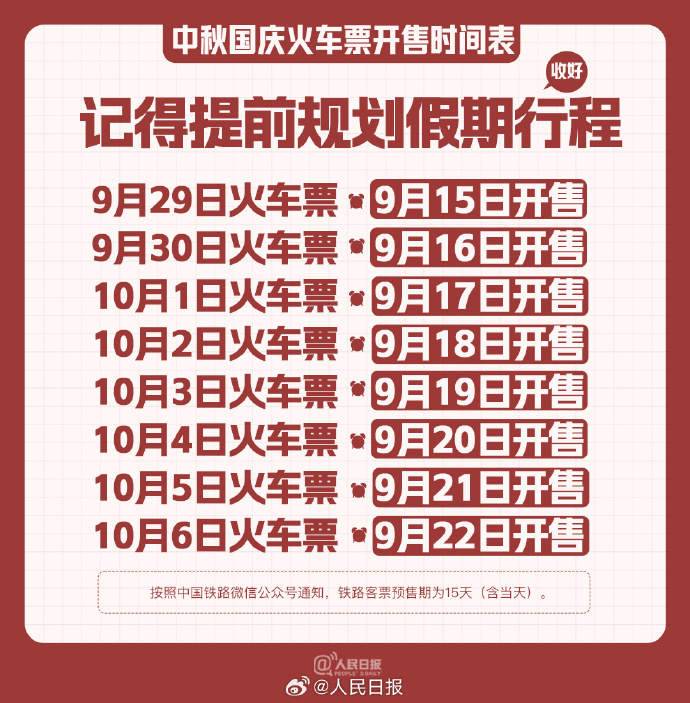 Recently, the hashtag #12306抢票 (#12306TicketRush) surged in popularity on Weibo, with numerous users expressing concerns about the challenges of obtaining tickets. Some even questioned whether 12306, the ticket booking platform, was intentionally limiting ticket availability.
In response to these concerns, 12306's customer service team clarified that all tickets for the Mid-Autumn and National Day holidays are released in a single daily batch. They refuted claims of a phased release or intentional withholding of tickets. To increase one's chances of securing tickets, they advised passengers to frequently refresh their booking information, as the rush for tickets is expected to persist until the eve of the holiday period.
According to official reports from China Railways, this year's "Golden Week" for the Mid-Autumn and National Day holidays will span from September 27th to October 8th, extending two days before and after the official holidays. During this 12-day period, China Railways anticipates serving a staggering 190 million passengers. This extension of the holiday period is expected to lead to a significant surge in rail travelers, driven by the increased travel aspirations of the public.
In terms of travel patterns, long-distance journeys are projected to peak at the beginning and end of the holiday period, while shorter-distance travel is expected to dominate the mid-holiday period, ensuring a consistently high volume of rail traffic.
During the National Day Golden Week, the daily passenger seat capacity is set to increase by 18.5% compared to the same period in 2019. Major cities such as Beijing, Shanghai, Nanjing, Suzhou, Tianjin, Guangzhou, Shenzhen, Chengdu, and Xi'an are likely to be popular departure and destination points. Notably, Hangzhou, which will host the Asian Games during the Golden Week, might also emerge as a favored high-speed rail destination for travelers.