China's National Immigration Administration is set to launch an updated version of the Chinese Foreign Permanent Resident ID Card (previously known as China Green Card), commencing on December 1st of this year, according to information revealed during a press conference held today as we announced yesterday.
At the conference, the public was given a glimpse of the new permanent resident card, notable for its infusion of Chinese cultural elements. This redesign prominently features an iconic Great Wall motif and incorporates the five-star elements representing the national emblem. In addition, the ID number was adjusted from 15 to 18 digits (in line with the ID card of Chinese nationals)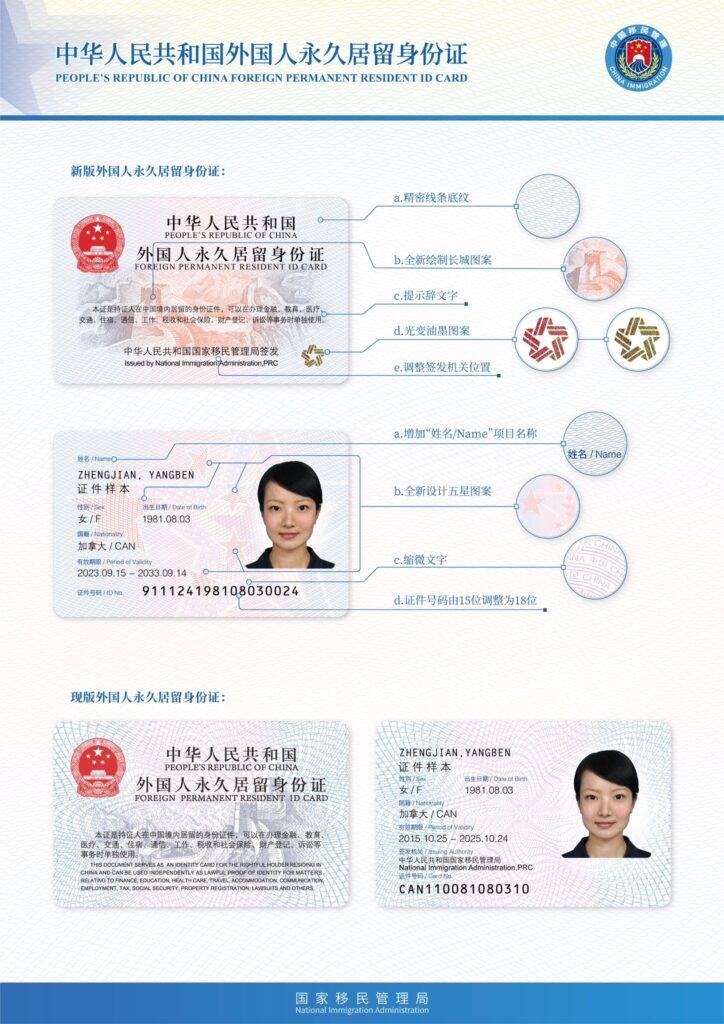 Experts who contributed to the card's development and enhancement have coined it the "Five-Star Card" to align with the international naming conventions for permanent resident cards. This rebranding not only emphasizes its distinct Chinese identity but also enhances recognition both domestically and abroad.
Previously known as the "China Green Card," insiders knowledgeable about this matter argue that "Five-Star Card" is a more fitting appellation.
The permanent resident card is an official identity document issued by the National Immigration Administration to qualifying foreign nationals who have been granted permanent residency in China. This card stands as a standalone proof of identity and is accepted in various scenarios, including residence registrations and the purchase of transportation tickets (such as for ships and planes), obviating the need for a foreign passport.
The new card incorporates advanced anti-counterfeiting technologies and improves information storage and application management services. Thanks to these upgraded features, cardholders will be able to conduct various personal affairs, such as transportation, consumption, and financial transactions, online through internet platforms, streamlining their daily life in China.
Officials from the National Immigration Administration underscored that this updated card aligns with China's commitment to high-level openness to the global community. It aims to enhance the digitization of foreigner management services, elevate the quality and efficiency of immigration management, and better serve international talents coming to China for employment, education, and residency, in line with the strategy for cultivating a skilled workforce in the new era.
In the forthcoming stages, the National Immigration Administration will collaborate with relevant departments to accelerate the upgrade and transformation of information systems, facilities, and equipment across various related sectors. This expansion will increase the card's applicability and boost user satisfaction, ensuring the successful realization of the upgraded permanent resident card's functional objectives.
It's important to note that the current version of the card will remain valid within its designated period of use even after the new version is introduced. Cardholders will have the option to apply for the updated version when necessary.