The Chinese embassy in Tunisia announced that the Tunisian government recently resumed the visa-free for Chinese tourists.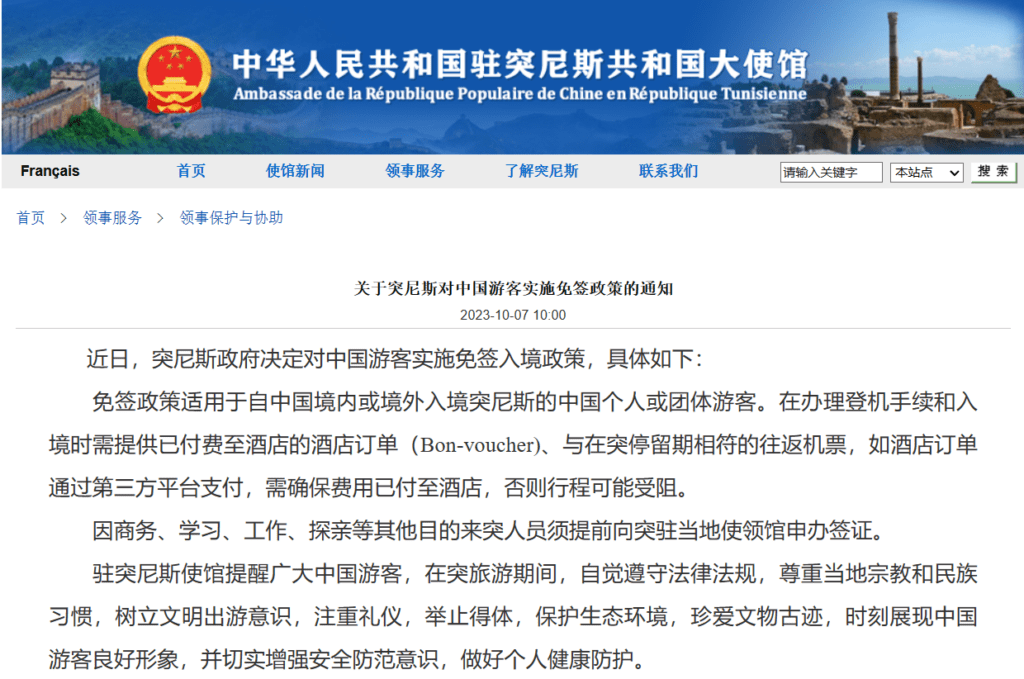 Here are the key details of this policy:
Visa-Free Eligibility:

This visa-free policy is

open to both individual Chinese travelers and Chinese tourist groups

.
It applies to Chinese tourists arriving in Tunisia from either within China or from other international destinations.

Required Documentation:

Travelers must present a paid Bon-voucher from their hotel upon check-in and entry.
A round-trip ticket should be provided, and its duration should match the planned stay in Tunisia.
If the hotel reservation is made through a third-party booking platform, travelers must ensure that the payment has been processed by the hotel. Failure to do so may result in travel disruptions.

Visa Requirement for Other Purposes:

For individuals traveling to Tunisia from China for purposes such as business, study, work, family visits, or any other non-tourist reasons, a visa must be obtained in advance.
Travelers should apply for the necessary visa from the local Tunisian embassy in China or place of residence.
This new visa-free entry policy aims to facilitate tourism and enhance travel opportunities for Chinese visitors to Tunisia. Travelers should ensure they meet the specified requirements to enjoy the benefits of this policy.